AOM Welcomes the 76th President of the Academy of Management, Quinetta M. Roberson
03 Sep 2020
At this year's Annual Meeting, Past President Jacqueline Coyle-Shapiro ceremoniously passed the gavel to Quinetta Roberson, officially welcoming her as the 76th president of the Academy of Management.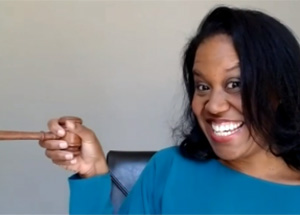 Quinette Roberson accepts the gavel at the 2020 Annual Meeting.
"I am ecstatic to hand over the leadership of the Academy of Management to the next president, Quinetta Roberson," said AOM Past President Jacqueline Coyle-Shapiro at the 2020 Annual Meeting. "I sit here in awe of the boundless skills and abilities Quinetta possesses."
Quinetta is the John A. Hannah Distinguished Professor of Management and Psychology at Michigan State University. Her research interests focus on diversity, justice, and inclusion within teams and organizations to enhance effectiveness, and has appeared in many of the leading management, psychology, and law journals.
She has served as an Associate Editor at the Journal of Applied Psychology (2008-2014) and edited Handbook of Diversity in the Workplace published by Oxford Press. Quinetta has over 20 years of experience teaching courses and workshops globally on leadership, talent management, and diversity. Her research and teaching are informed by her background in finance, having worked as a financial analyst and small business development consultant prior to obtaining her doctorate.
Quinetta Roberson has been a member of the Academy of Management for 25 years. She served on the AOM Board of Governors in several capacities: as Representative-at-large from 2013-2016, as Vice President in 2018-2019, President-Elect in 2019-2020, and is currently serving as President in 2020-2021.
The Academy extends a heartfelt "Thank You" to Jacqueline Coyle-Shapiro for her dedication of service, time, and expertise to AOM, especially during a year of unprecedented disruption, and please join us in giving Quinetta a warm welcome as we look forward to another innovative year of leadership.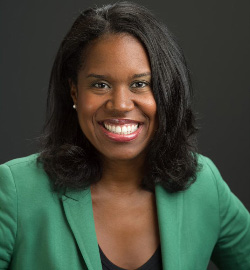 "The last year at AOM has taught us some important skills for cooperation and adaptation. With so many people dedicating their time, efforts, expertise, and experience, I have no doubt that we will be better, bigger, faster, stronger… and stay the premiere professional association among management and organizational scholars. I'm excited to see what the next year holds; so, 2021, let's go!"
— Quinetta Roberson, AOM 2020 closing remarks