AMP PDW: Publishing in Academy of Management Perspectives
This PDW is now a virtual event, hosted by Professor and Associate Dean Siri Terjesen, Florida Atlantic University and the AMP Editors
Note: this event has been converted to an all virtual event. The Zoom link will be provided to registrants following your registration.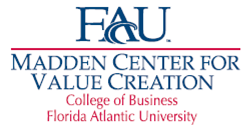 Saturday, 5 February 2022
Hosted by:


Professor and Associate Dean Siri Terjesen, Florida Atlantic University
AMP Editors

If you answer "yes" to any of the following questions, then you don't want to miss this plenary.
Do you have a research project, but can't tell if it fits or appeals to AMP?
Do you want to ask AMP editors some questions about the submission and publication process with AMP?
Do you want to brainstorm research ideas and pressure-test them?
Ever wanted to see how scholars—who don't know you at all—might react to your research idea?
What constitutes a good AMP paper? And how to help ensure your work meets the mark?
Are you interested in learning more about new developments at AMP?
The plenary will be led by AMP's Editor-in-Chief Gideon Markman, Colorado State University, and Geoffrey Wood, Western University.
Participation is free.
Registration is required. To register, complete the following form.