Continue "Creating a Better World Together" after the Annual Meeting!
Connections, conversations, and engagement via the Annual Meeting platform is available through 31 October.
Annual Meeting platform
AOM Collections has launched!
Read the first issue of AOM's newest journal: Academy of Management Collections.
Click to read now
AOM is the preeminent professional association for management and organization scholars.
Our members are professors and PhD students in business schools at universities, academics in related social science and other fields, and practitioners who value knowledge creation and application.
Join us!
AOM Scholars On… Measuring Real World Impact of Scholarly Research
How are academic scholars turning their insights and career work into solutions for society's problems?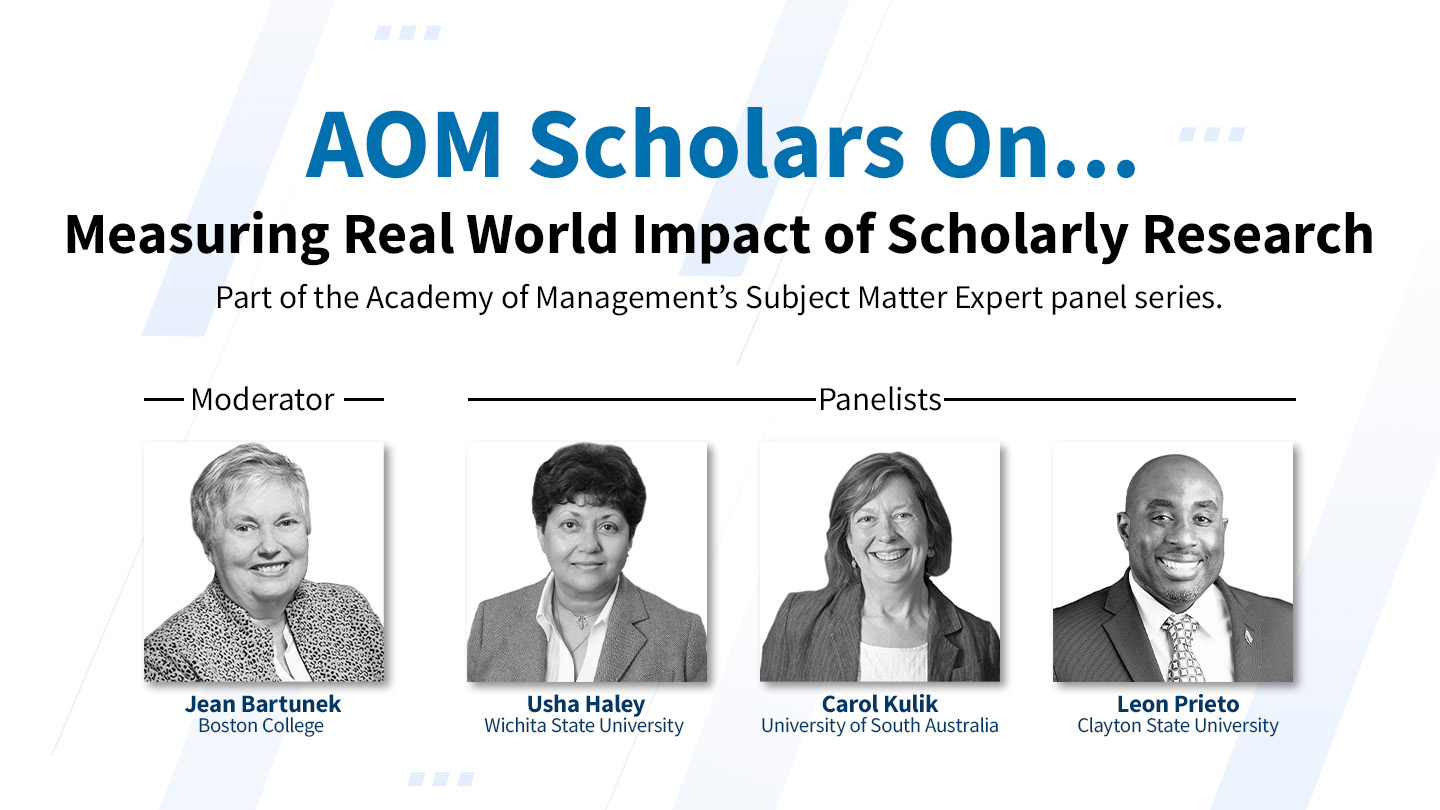 10 August 2022
Post Annual Meeting Engagement, AOM in the News, DIG News and Events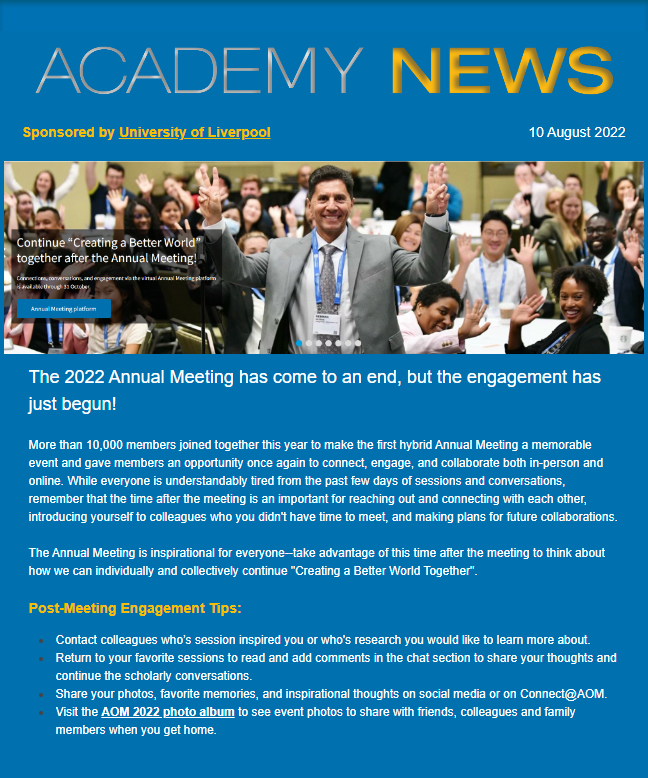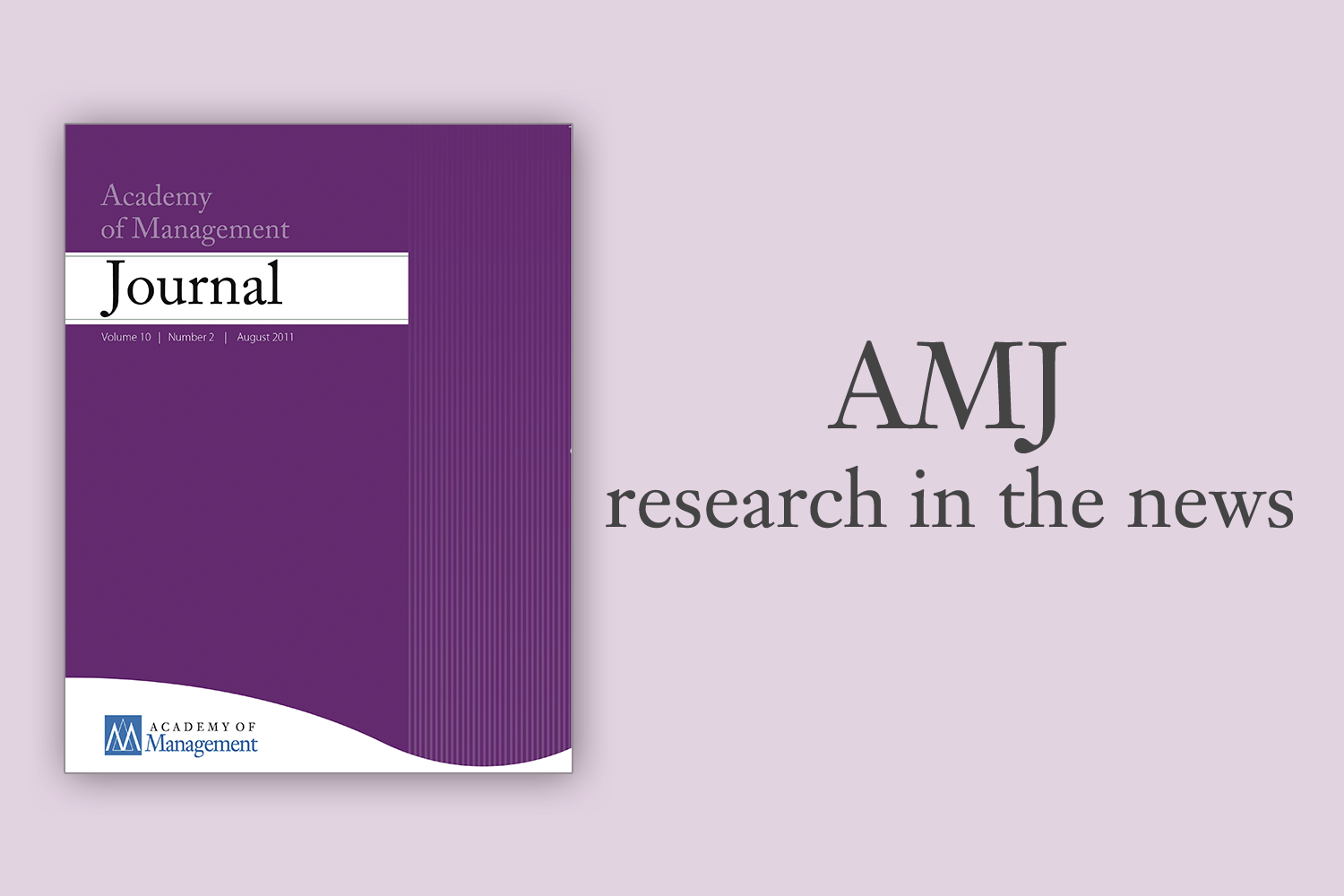 News
Forbes: Why Meaningful, Long-Term Volunteer Opportunities Are The Key To Engaging Your Top Talent
There's a humanity deficit at work. And it's contributing to employee and manager burnout.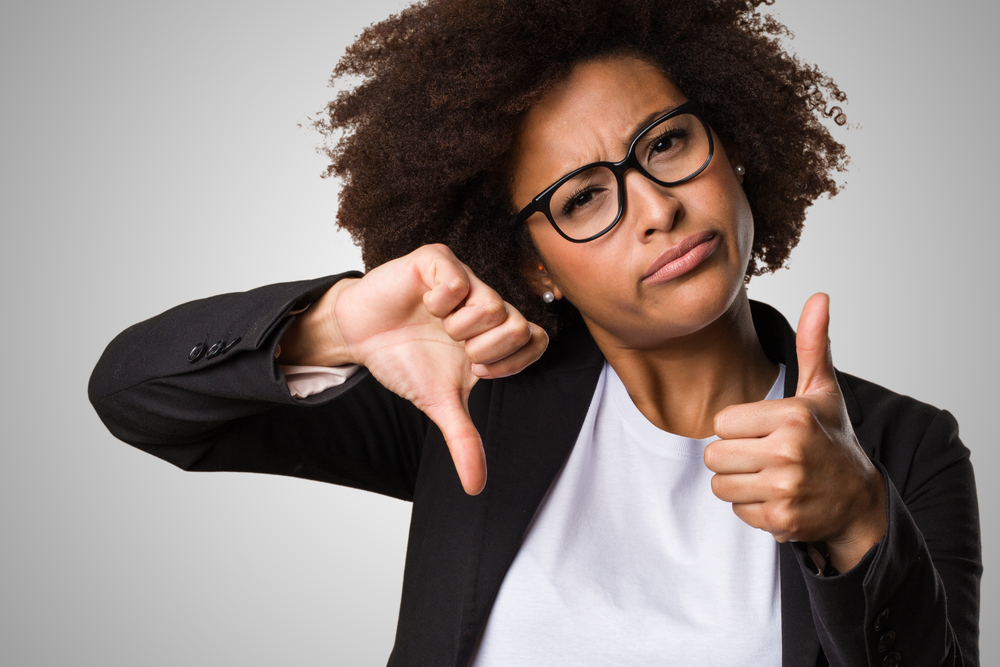 News
Fast Company: Hybrid work isn't working: Here's a better approach
Management professors share a detailed example of adopting 'both/and thinking' to move beyond a simple yet often destructive formula and develop more creative and productive solutions.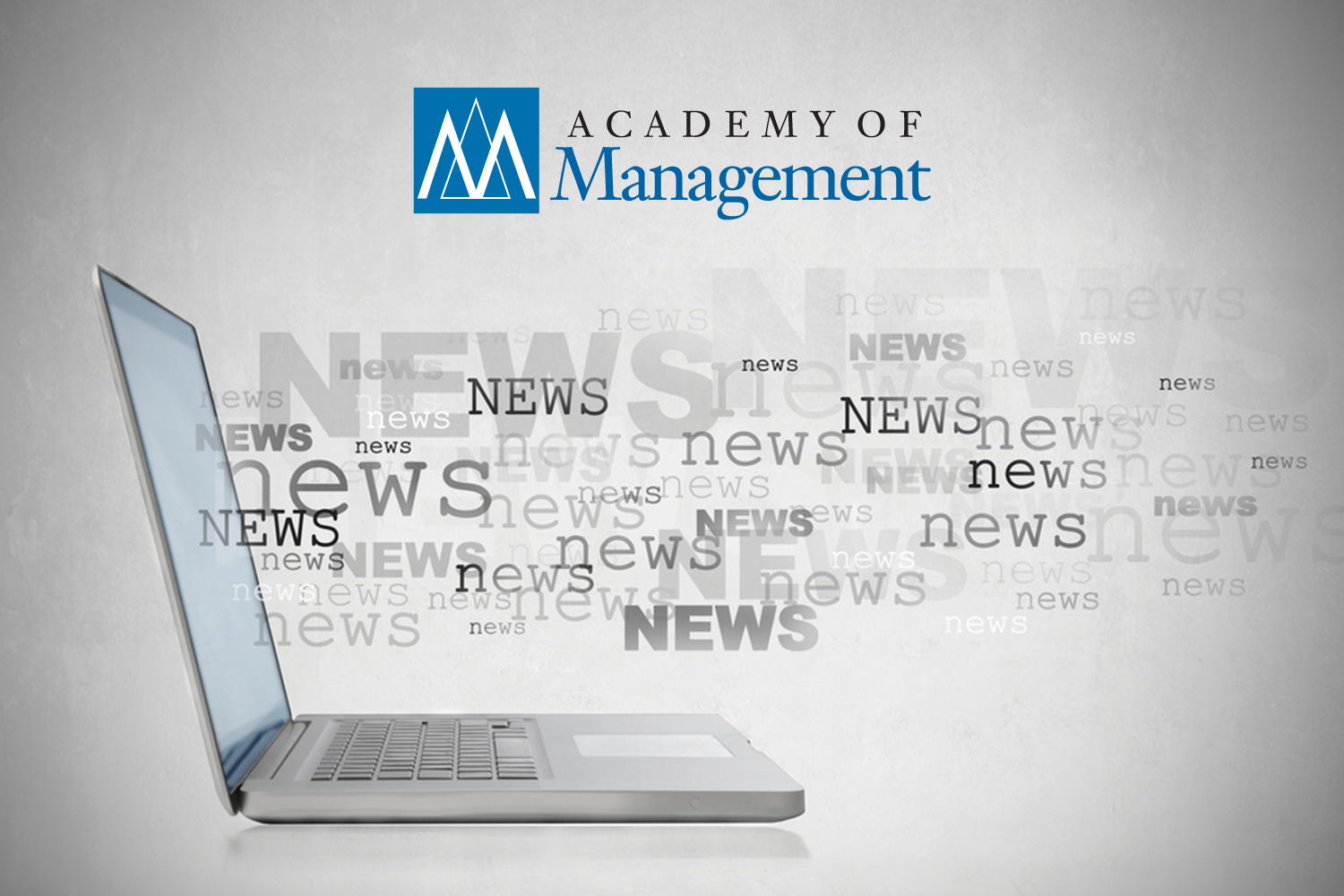 News
Built In: Divergent Thinking: What It Is, How It Works
Weird or out of the box thoughts can yield a cornucopia of good ideas.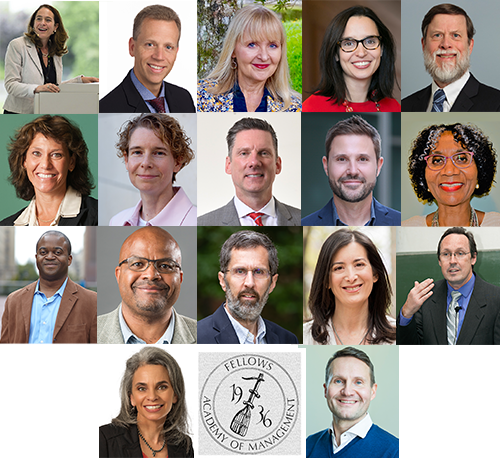 Seventeen Inducted Into AOM Fellows for 2022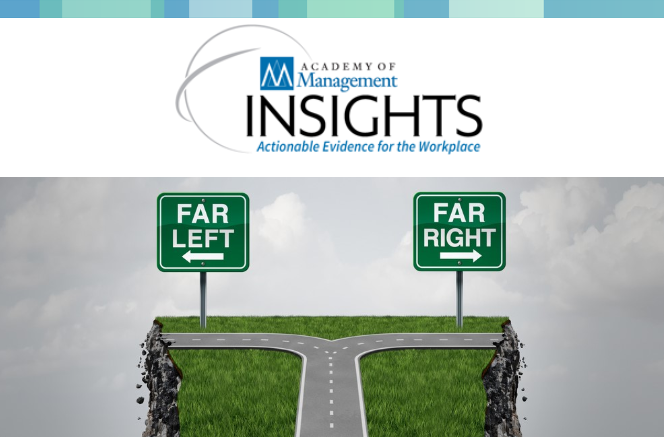 Extremism's roots, Blaming capitalism, Biased decisions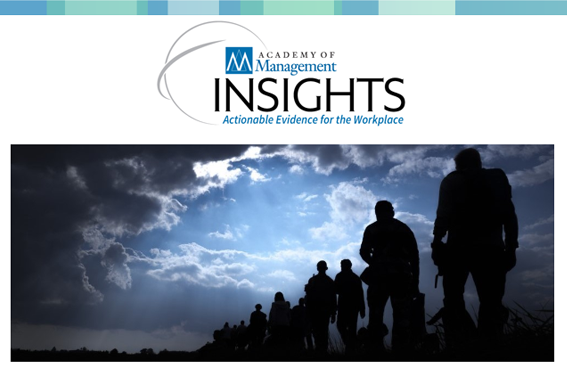 Migration, Politics and CEOs, AI and morals, Sexual harassment
Research
Our members create knowledge through scholarly research and its application.
AOM Insights
AOM Insights
Insights brings the best academic research findings to managers and business leaders worldwide.
Journals
Journals
Explore AOM's six top-rated academic journals and conference publications.
Publishing
Publishing
Publishing with AOM holds benefits for both researchers and their institutions.
Community
AOM members are faculty, students, and practitioners from more than 120 nations who are dedicated to enabling a brighter future for society through management scholarship, teaching, and practice.

Divisions and Interest Groups
Divisions and Interest Groups
Divisions and Interest Groups reflect a broad range of interests within 26 management disciplines for members to connect within smaller, niche groups.
Connect@AOM
Connect@AOM
AOM's online community providing an engaging experience by connecting you with others to share ideas on management and organizational research.
Volunteering
Volunteering
Volunteers contribute to the collective future of AOM by joining in the planning, direction and decision making of our programs.
AOM Newsletters
Newsletters inform our community about research, events, publishing, and more.
Academy News
Academy News
News and updates from the Academy, our members and the latest events and research.
Insights Newsletter
Insights Newsletter
This newsletter keeps managers, business leaders, and academics up to date on research from the world's top scholars.
Divisions and Interest Groups Newsletters
Divisions and Interest Groups Newsletters
AOM's 26 Divisions and Interest Groups (DIGs) offer a range of tailored services. View and subscribe to the DIG Newsletters of your choice.