Member Spotlight: Joanne C. Preston, recipient of the 2021 Distinguished Scholar-Practitioner Award
22 Sep 2021
The 2021 AOM Distinguished Scholar-Practitioner Award recognized long-term contributions, scholarly works, and far-reaching practice.
The Distinguished Scholar-Practitioner Award is an all-Academy award presented annually to a candidate who demonstrates long-term, significant contributions in one or more of the following areas: successful application of theory or research in practice and/or contribution to knowledge through extraction of learning from practice; authorship of scholarly works which have substantively affected the practice of management; and integration of research and practice that is respected by peers (both practitioner and academic).
Joanne C. Preston is the recipient of the 2021 Distinguished Scholar-Practitioner Award. She is an internationally recognized management consultant with more than 35 years of experience in global leadership, strategic change, organization development and transformational change. Joanne has worked with Fortune 500 companies and governments in China, Korea, Mexico, Argentina, England, Kenya, South Africa, and the United States, among others, and with distinguished world leaders such as Nelson Mandela and Lech Walesa. She is a professor of organization development, and she designs curriculum at master and doctoral levels.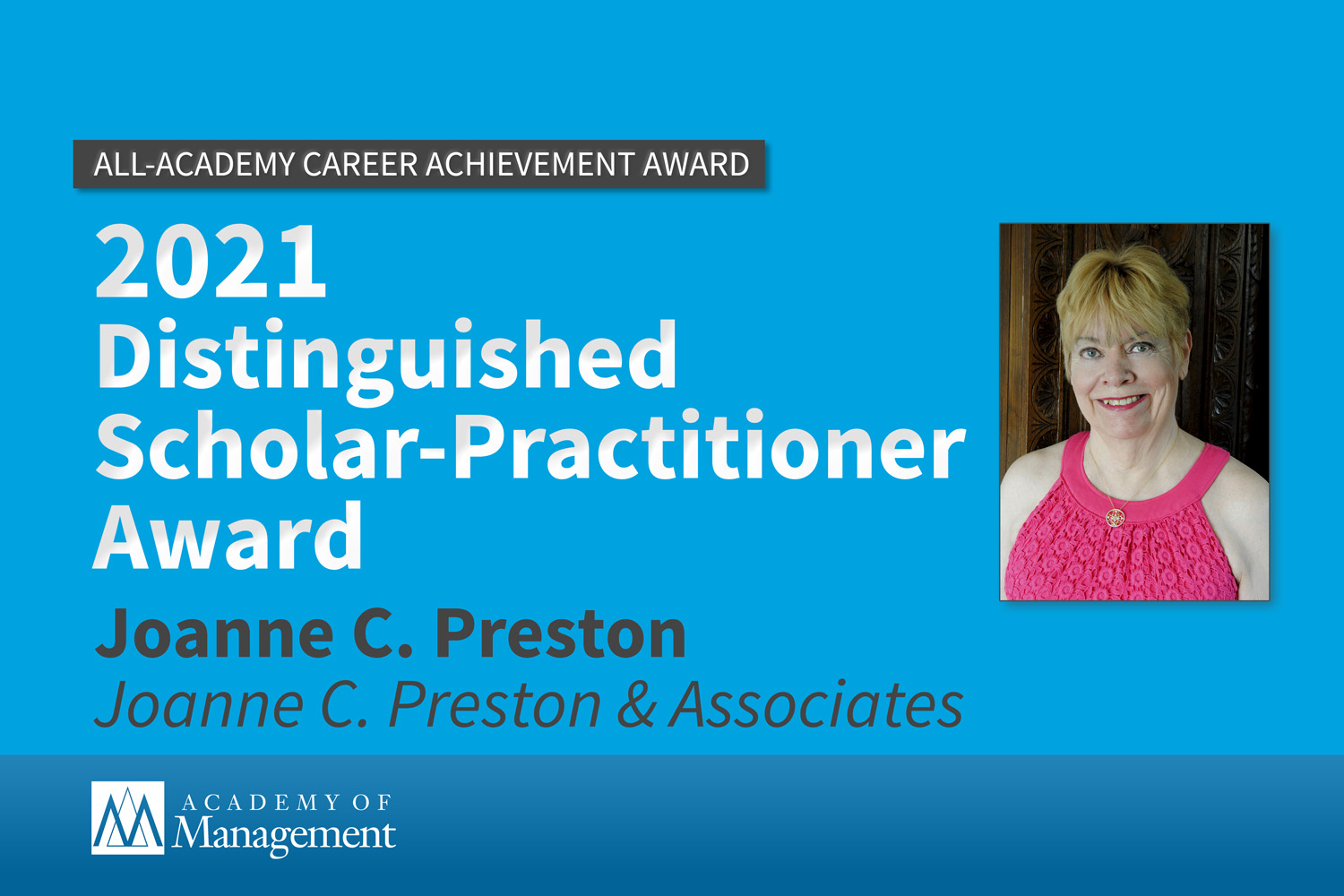 Her focus on the management field came after achieving her PhD in psychology. Joanne soon realized her interests, experiences, and research didn't quite fit the psychology mold. While working in South Africa, she came to the realization that her expertise best fit within management, where she could study and implement changes that would make a difference in society. Her experience and achievements to date are a testament that she has certainly made a difference.
"If I don't help change apartheid nonviolently, who else will?"
Joanne's most recent work aligns with the digital world we live in and focuses on how to build relationships and increase engagement over virtual meetings. She is currently studying how to consult over Zoom and establish relationships, so people are comfortable expressing their concerns, and the use of self as a change agent.
Joanne's long-term contributions, scholarly works, and practice have contributed to the AOM Awards Committee's decision on naming her this year's recipient.
Joanne's history with AOM spans more than a decade and she has earned Emeritus status. She has also served as Past-Chair of the Management Consulting Division. Joanne's advice to those new to AOM is to delve into their membership: get involved early and get involved often. Don't just join a Division or Interest Group, be active in the groups you care about. Volunteering with the Academy is also pivotal: "It makes all the difference with what the Academy means to you. You get back threefold what you put in."
She also emphasizes the importance of attending social events, both at the Annual Meeting and on a DIG level. "It's scary when you're new, but this can change your whole outlook. You can meet your mentors and that can change the trajectory of your career."
"I know that there were often times I didn't have the skills, the ability, or the knowledge to actually solve these problems, but I remember what my mentors would say: 'Dig deep, think about all you've learned in the past, trust the process, stay grounded, and trust the people that are involved in the intervention,' and with that advice, all of us achieve the impossible."
"I have met so many wonderful people at the Academy of Management who have gotten me involved in incredible projects. I would recommend anyone get involved in AOM to meet the people and talk about what you may want to do in your career. It's all about the people! "
Joanne's Career Facts:

Elected President of ISODC in January 2020 and Editor of the Organisational Development Journal off and on for 22 years.
Owner of Joanne C. Preston & Associates, a large-scale change network organization of numerous highly qualified consulting companies that provide education and practical solutions for positive change for its clients.
Previously served as Dean of the Doctorate of Management Program at Colorado Technical University.
Named Distinguished Educator in several doctoral programs domestically and internationally.