Registration opens for AOM's first virtual Annual Meeting
22 Jun 2020
Gain access to sessions, supplemental material, presentation slides, videos, and discussions.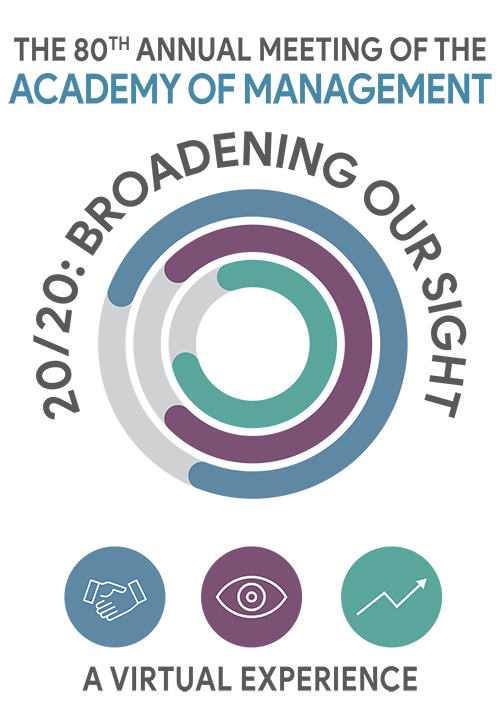 For the first time, AOM's Annual Meeting will be virtual! This year's meeting offers unique opportunities to expand research, network with colleagues, and disseminate knowledge addressing the 21st century's most pressing challenges related to management and organizations. This year's virtual meeting provides the utmost flexibility for members to connect in ways never before possible, explore ideas, and actively learn in a new, online environment.
Join us as AOM expands knowledge and research while addressing the 21st century's most pressing challenges, such as conflict, discrimination, corruption, well-being, economic opportunity and equality, and climate change, at the 80th Annual Meeting of the Academy of Management. The event theme, 20/20: Broadening Our Sight, challenges us to see things more clearly and to break down dichotomies-- broadening the way we see management and organizations and our own profession.
Benefits of Attending the 2020 Annual Meeting
AOM's Annual Meeting will take place on Pathable, a leading virtual event platform offering a seamless, one-stop experience for all meeting activities.
400+ synchronous (live) sessions and 1,100+ asynchronous (pre-recorded) sessions. Most sessions will be recorded and available to watch at your convenience—eliminating session conflicts and allowing for greater reach and impact.
Join your DIGs and explore others—the virtual meeting brings together all AOM divisions and interest groups, enabling attendees to choose and participate in sessions across domains. And don't miss sessions from the Teaching and Learning Conference, included with registration this year.
Supplemental session information, such as papers, slides, PDFs, and session recordings, provide additional content and context. Attendees can view the materials, follow conversations, and engage in meaningful dialogue after the session.
Extended collaboration and viewing periods allow attendees to pace themselves and revisit sessions at their convenience. Questions, answers, and comments can be added through 31 August. Supplemental session information is available through 31 October.
Network and engage in conversations with geographically dispersed attendees, advancing research, teaching and practice through virtual gathering places such as "Birds of a Feather" topic sessions and "Want to Meet" lists of colleagues for individual or group meetings.
View presentations and meet one-on-one with publishers and other vendors at the Virtual Exhibit Hall.
Participate in the AOM 2020 Virtual Career Fair where employers will hold scheduled presentations about their institutions during the meeting and candidates can schedule remote video interviews taking place after the program sessions conclude on 11 August.
All of this and more to come—easy, convenient, and travel-free!
Visit the 2020 Annual Meeting page for more information on the virtual event.
Already registered? Check out our Virtual Participation page for tips on presenting, exhibiting and attending virtually.