AOM Scholars On… Conflict Management: Best Practices in the Workplace
28 Feb 2023
Conflict Management: AOM Hosts the 11th Subject Matter Expert Panel and discuss how...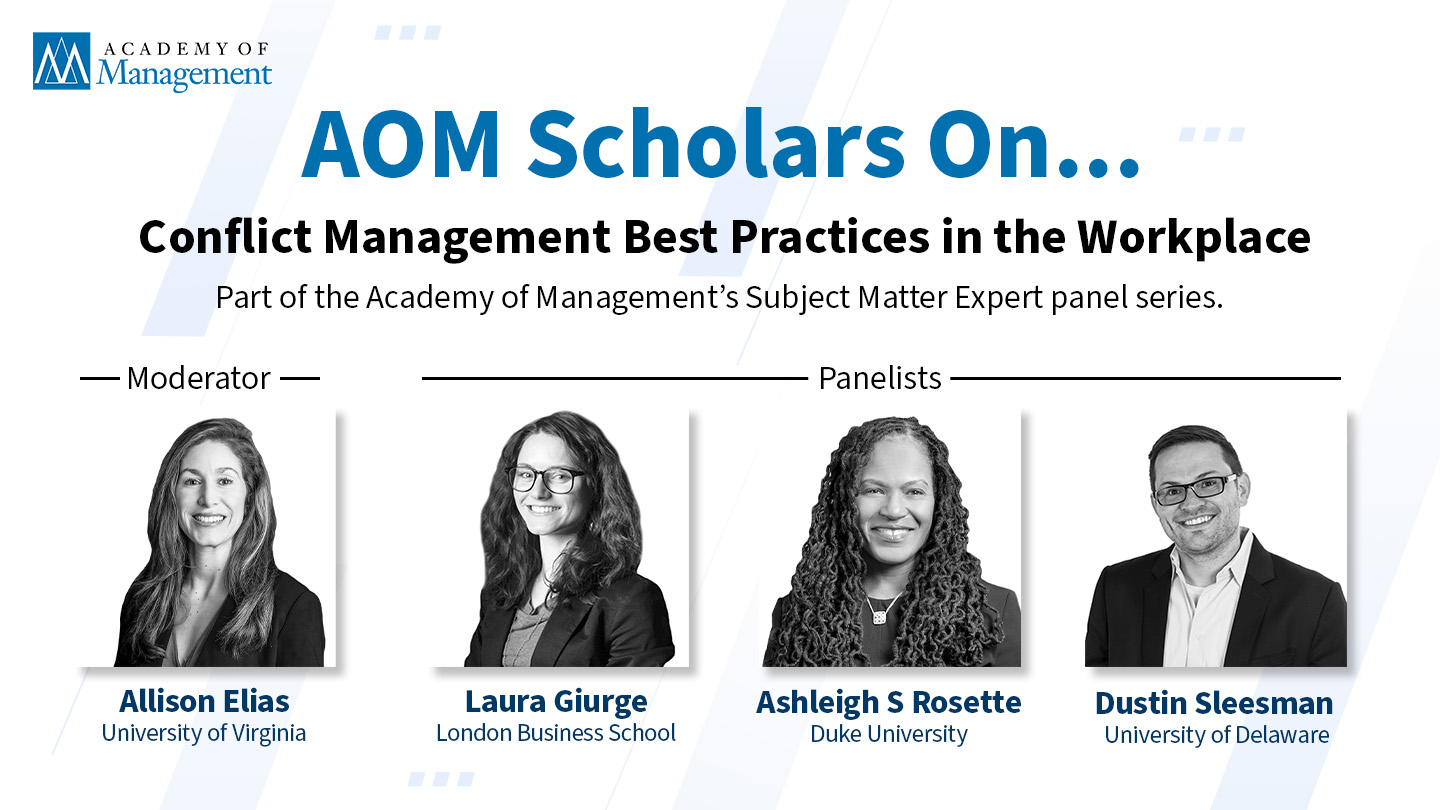 Join AOM Subject Matter Experts for a special AOM Scholars On... employee engagement
20 September at 9:00 EDT (GMT/UTC-4)
Registration is free and open to the public
Click to Register for the Webinar
This AOM Scholars On... panel will provide analysis on...
This panel is AOM's 11th Subject Matter Expert Panel in the "AOM Scholars On…" series that provides actionable, research-based insights to the most pressing issues facing....
---
Panel Moderator
Allison Elias teaches courses about communication, negotiation, and gender in Darden's MBA and EMBA programs. Her research investigates historical and contemporary issues of gender and diversity in organizations, with a focus on the influence of social movements on corporate practices. Her forthcoming book (History of U.S. Capitalism series, Columbia University Press), at the intersection history and management studies, charts the trajectory of modern feminism at work through the lens of the secretarial profession. She is a nominee for the 2022 Outstanding Faculty Award at Darden.
Before coming to Darden, Elias taught at the Wharton School, University of Pennsylvania; the Owen Graduate School of Management, Vanderbilt University; the SC Johnson College of Business, Cornell University; and the ILR School, Cornell University.
---
Panelists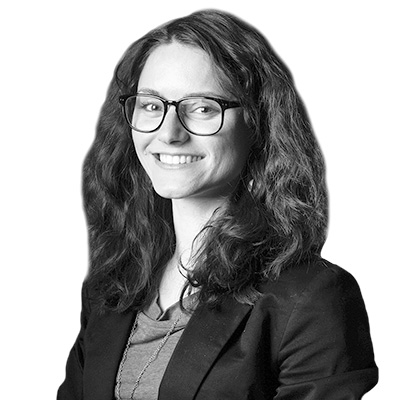 Laura M. Giurge is a Behavioral Scientist and a Postdoctoral Research Fellow at London Business School. She is also the Barnes Research Fellow at the Wellbeing Research Centre of the University of Oxford and was previously a Postdoctoral Research Fellow at Cornell University. She holds a PhD in Management from Erasmus University Rotterdam and two cum laude Master Degrees from the University of Groningen.
Laura studies and advises on how employees, teams, and leaders can capitalize on ongoing innovations at work to maximize personal and professional development. She also studies how to improve decision-making in organizations around resource allocation and gender equality. Her research has been published in journals with international impact such as the Proceedings of the National Academy of Sciences, Nature Human Behavior, Organizational Behavior and Human Decision Processes, and The Leadership Quarterly, and it is often featured in the media. Her writing has appeared in the Harvard Business Review and Forbes.

Dustin J. Sleesman studies behavior in organizations from multiple perspectives. First, his research examines how people become committed to decisions and projects, and how they can even be overly attached and unwilling to adapt when change is needed. Second, he studies negotiation and conflict resolution. Most of his work in this area emphasizes the influence of thoughts and perceptions. Lastly, his research focuses on how to create the conditions for team effectiveness, such as understanding the important role of leadership, motivation and information sharing among members.
Dustin's research has been published in leading academic journals, including Academy of Management Journal, Academy of Management Annals, Organizational Behavior and Human Decision Processes, The Leadership Quarterly, and Journal of Applied Psychology. His research has also been cited in media outlets, such as Forbes, HuffPost, MIT Sloan Management Review, The European Business Review, National Affairs, Philanthropy Journal, La Tercera, Delaware Public Radio, WDPN-TV Wilmington/Philadelphia, and Cheddar TV.