Insights Newsletter Archive
Work-family balance, awards, mean bosses
01 Sep 2019
"The common answers—censorship, control, cultural differences—are important, but they are not the real reasons for the systematic failure of Western Internet companies in China," a researcher says.
By analyzing data about professional hockey players changing teams, researchers uncovered strategies that managers should keep in mind.
Science-based entrepreneurs can find the help they need to succeed from "behind the scenes" intermediary organizations.
The staggering costs of corporate scandals are well-known. Largely overlooked, however, is a potential silver lining for competitors of the scandalized company. This is a summary of a finalist for Academy of Management Journal's 2019 Best Article.
Crying at work is not always a big problem, but in the wrong situation, it can be a reputation-killer. This is a summary of a finalist for Academy of Management Discoveries' 2019 Best Article. It's also the most-clicked Insights summary to date.
Advancing Management Research in Latin America
AOM's Specialized Conference April 15-17, 2020, at IPADE Business School in Mexico City, is designed to:
1. Foster the development of research from Latin American scholars and institutions.
2. Create opportunities for leading scholars to learn more about how their work relates to relevant issues embedded within the Latin America context.
3. Establish connections between management educators and scholars from Latin America and those from other parts of the world.
Calls for submissions and reviewers are now open.
Share with a colleague
To share this newsletter with a colleague, just forward it with this sign-up link.
INSIGHTS is an online magazine that transforms
AOM research into actionable evidence for the workplace.
555 Pleasantville Road, Suite N200, Briarcliff Manor, NY, 10510-8020, USA
Phone: 1+ (914) 326-1800
CONNECT WITH US:
The Academy of Management has updated its Privacy Policy and Terms of Use
to improve transparency, security, and control of personal data.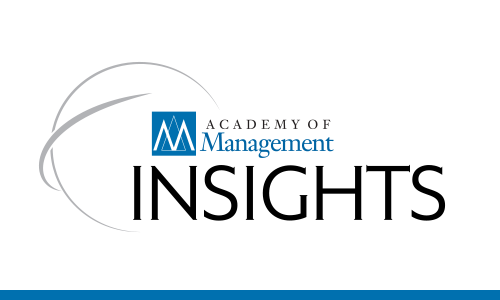 Boost your knowledge, advance your career, and help your colleagues with a free subscription to AOM Insights monthly newsletter.