Insights Newsletter Archive
Whistleblowers, leaders vs. managers, sustainable cities
01 Nov 2019
Performance pressure can be a double-edged sword. It can motivate employees to achieve or undermine their productivity.
People in intense jobs—emergency responders, social workers, pro athletes—who can operate within their own emotional comfort zones have higher job satisfaction and performance, and better self-esteem. It can even help them avoid burning out.
While the public sector has the reputation for being less discriminatory than the private sector, a study finds that both have equally significant bias against job applicants with foreign names.
Departing scientists can serve as bridges between their old and new employers, creating the possibility of mutually beneficial collaborations.
Advancing Management Research in Latin America
AOM's Specialized Conference April 15-17, 2020, at IPADE Business School in Mexico City, is designed to:
1. Foster the development of research from Latin American scholars and institutions.
2. Create opportunities for leading scholars to learn more about how their work relates to relevant issues embedded within the Latin America context.
3. Establish connections between management educators and scholars from Latin America and those from other parts of the world.
Share with a colleague
To share this newsletter with a colleague, just forward it with this sign-up link.
INSIGHTS is an online magazine that transforms
AOM research into actionable evidence for the workplace.
555 Pleasantville Road, Suite N200, Briarcliff Manor, NY, 10510-8020, USA
Phone: 1+ (914) 326-1800
CONNECT WITH US:
The Academy of Management has updated its Privacy Policy and Terms of Use
to improve transparency, security, and control of personal data.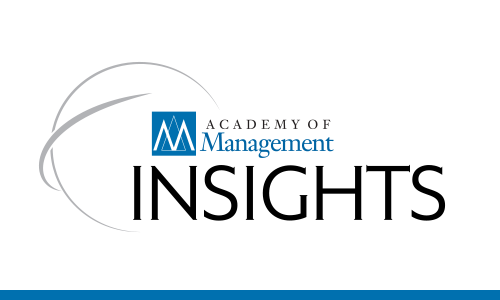 Boost your knowledge, advance your career, and help your colleagues with a free subscription to AOM Insights monthly newsletter.