Insights Newsletter Archive
Customer volunteers, viral scandals, most-read in 2019
01 Jan 2020
Organizations have to identify and deal with negative posts before they go viral. A passive approach is no longer a viable option.
"Even though jobs and positions change, people do not change very much," a researcher says.
Advancing Management Research in Latin America
Registration rates are now available for the Advancing Management Research in Latin America Specialized Conference, hosted by IPADE Business School 15-17 April 2020 in Mexico City, Mexico. Use this opportunity to plan ahead, and be the first to register for the conference when registration opens in mid-January. Click here to receive conference updates.
Share with a colleague
To share this newsletter with a colleague, just forward it with this sign-up link.
INSIGHTS is an online magazine that transforms
AOM research into actionable evidence for the workplace.
555 Pleasantville Road, Suite N200, Briarcliff Manor, NY, 10510-8020, USA
Phone: 1+ (914) 326-1800
CONNECT WITH US:
The Academy of Management has updated its Privacy Policy and Terms of Use
to improve transparency, security, and control of personal data.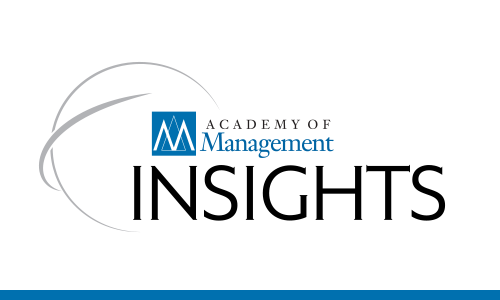 Boost your knowledge, advance your career, and help your colleagues with a free subscription to AOM Insights monthly newsletter.