Insights Newsletter Archive
Gender pay gap, war zone health care, Top 20 in 2020
01 Jan 2021
Beliefs and practices reinforced by the world's major religions keep women from getting paid as much as men for the same work.
Traditionally, hospitals and health care workers were spared from being targeted in battle. But in twenty-first century war zones, they are increasing finding themselves under attack. Researchers reveal ways for humanitarian organizations in conflict zones to reduce their vulnerability.
Researchers detail how two nonprofits not only repurposed generic drugs, but also captured positive unintended consequences that may show ways to address other social problems.
A study shows that administrators of the U.S. Small Business Innovation Research (SBIR) program have a good track record of identifying which businesses represent promising investments of taxpayer dollars.
"The big question is, will the role of business in society return to normal after COVID-19, or will it be reconfigured in enduring and impactful ways? How does society change in response to a great upheaval and what are businesses expected to do?" a researcher asks.
High diversity at both upper and lower management levels is critical to the best performance, research reveals. When upper management is less diverse than lower management, productivity suffers.
Share with a colleague
To share this newsletter with a colleague, just forward it with this sign-up link.
INSIGHTS is an online magazine that transforms
AOM research into actionable evidence for the workplace.
555 Pleasantville Road, Suite N200, Briarcliff Manor, NY, 10510-8020, USA
Phone: 1+ (914) 326-1800
CONNECT WITH US:
The Academy of Management has updated its Privacy Policy and Terms of Use
to improve transparency, security, and control of personal data.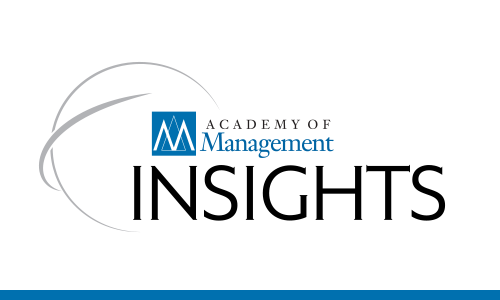 Boost your knowledge, advance your career, and help your colleagues with a free subscription to AOM Insights monthly newsletter.