Insights Newsletter Archive
Cooperative economics, Admitting mistakes, Slum workers
01 Oct 2021
Today's business students need to learn more about cooperative economics—extolled by prominent black thinkers and promoted for decades at a historically black college—to fulfill the promise of the civil rights movement and lift communities out of poverty, AOM scholars say.

To analyze organizational cultures of perfectionism, AOM scholars interviewed employees at two consulting firms, both of which touted their excellence externally to clients and internally to staff.

Impoverished Dalits, India's most oppressed and stigmatized people, scavenge through slum trash dumps for items to sell. Braving stench and infectious diseases in the tropical heat, they earn just enough to feed their families. How do they manage to do it day after day?

Crises are nothing new to organizations. What is new, however, is the tenor. Today's crises are life-threatening, far-reaching, and occur more frequently.

Low-level and marginalized employees can boost the status of their peers, as well as themselves, by publicly endorsing another person's contribution.




Share with a colleague
To share this newsletter with a colleague, just forward it with this sign-up link.
INSIGHTS is an online magazine that transforms
AOM research into actionable evidence for the workplace.
555 Pleasantville Road, Suite N200, Briarcliff Manor, NY, 10510-8020, USA
Phone: 1+ (914) 326-1800
CONNECT WITH US:
The Academy of Management has updated its Privacy Policy and Terms of Use
to improve transparency, security, and control of personal data.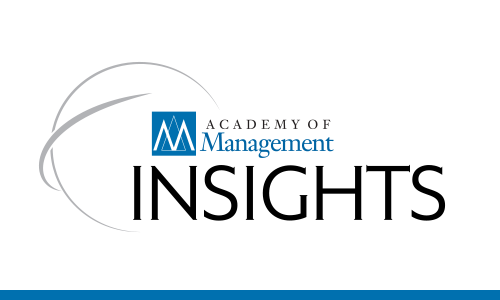 Boost your knowledge, advance your career, and help your colleagues with a free subscription to AOM Insights monthly newsletter.