Insights Newsletter Archive
Entrepreneurial education, AI & creativity, Future of work
06 Jun 2023
Entrepreneurial Education as a Way to Find Purpose
"The model is a bit broken" an AOM scholar says. "Stop drinking the Kool-Aid that it is all about profitability and financial outcomes. It is also about personal growth and authenticity: creating value for yourself, your community and the world."
Skills, Not Jobs, May Be the Focus of the Future of Work
Rarely has such a strong confluence of factors—new technologies, pandemic-related hybrid and flexible work, and the rise in freelance, gig, and contractual work—so significantly upended the traditional labor market. This change is particularly relevant for Gen Z and Millennials, young engineers, and others who navigate a job market that values skills over traditional titles, according to an Academy of Management Perspectives article.
Some managers avoid promoting stars on their teams because they fear being unable to replace them. Not only are they hurting the stars and their organizations, but they're also hurting themselves, according to AOM scholars.
Three Ways Teams Can Adapt to Toxic Organizations
Individuals can respond to toxic workplaces by using defense mechanisms, confronting abusers, or simply leaving. But AOM scholars reveal three responses that teams can take, as they work toward organizational goals and objectives.
Supervisor-Employee Relationships Can Change Weekly
It's no secret that establishing positive relationships between managers and employees is essential to effective leadership. But managers who have achieved that goal should not rest on their laurels. Like friendships and marriages, manager-employee relationships need to be nurtured over the long haul.
Have a Rude Customer? Looking at It as a Sacrifice Can Help
Maintaining satisfaction and motivation in the face of adversity is easier if workers think of their labors in terms of self-sacrifice. But workers cannot maintain that vibe alone. Upholding the ideal of sacrificing for the common good requires support from peers and managers.
Despite Advances, the Glass Ceiling Persists
The presence of women in the C-suite has slowly grown in recent years, but their numbers still lag far behind those of men. Women hold only about 6% of CEO and 11% of executive roles in large U.S.-listed corporations, according to an Academy of Management Annals article, despite evidence that businesses with gender-diverse top management teams tend to perform better in the long run.
The Academy of Management thanks Insights newsletter sponsor, UC Press:
Share with a colleague
To share this newsletter with a colleague, just forward it with this sign-up link.
INSIGHTS is an online magazine that transforms
AOM research into actionable evidence for the workplace.
555 Pleasantville Road, Suite N200, Briarcliff Manor, NY, 10510-8020, USA
Phone: 1+ (914) 326-1800
CONNECT WITH US:
The Academy of Management has updated its Privacy Policy and Terms of Use
to improve transparency, security, and control of personal data.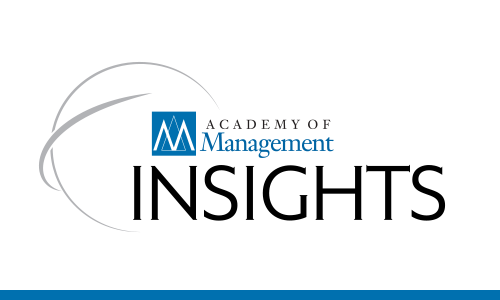 Boost your knowledge, advance your career, and help your colleagues with a free subscription to AOM Insights monthly newsletter.