Insights Newsletter Archive
Narcissistic leaders, doomsday scenarios, 911 lessons
01 Nov 2020
Narcissistic leaders can create dysfunctional organizational cultures and fuel unethical behavior that can last beyond their tenures.
Today's environmental, socioeconomic, and health crises could result in one or more doomsday scenarios of global, organized violence within a generation.
How should the legacy of the 9/11 terrorist attacks influence managers and business leaders? Approaching the second-decade anniversary of the attacks, two scholars are inspired to seek answers by exploring art and literature.
The strategy often backfires because women who downplay feminine qualities are more likely to be perceived as unlikable.
After a six-year study, researchers find that entrepreneurship can remove barriers for sex workers, creating a "completely different sense of self because of the role they're able to take on as entrepreneurs."
When employees are uncomfortable identifying concerns, managers can think the workplace is running smoothly because no one is talking about any possible problems.
A boomerang employee's institutional knowledge trumps the once prevalent mindset that former employees are off-limits because they once headed for greener pastures.
High-stakes presidential campaigns create a "comparative mindset" among many managers, spurring them to skip the first step of considering if spending is even necessary.
"Take into account all of your stakeholders and not just your customers. Yes, customers are important. But are they more important than your employees?" a researcher asks.
Check out these Insights summaries of AOM journal articles on uprooting racism, promoting equality, and addressing ethics..
Share with a colleague
To share this newsletter with a colleague, just forward it with this sign-up link.
INSIGHTS is an online magazine that transforms
AOM research into actionable evidence for the workplace.
555 Pleasantville Road, Suite N200, Briarcliff Manor, NY, 10510-8020, USA
Phone: 1+ (914) 326-1800
CONNECT WITH US:
The Academy of Management has updated its Privacy Policy and Terms of Use
to improve transparency, security, and control of personal data.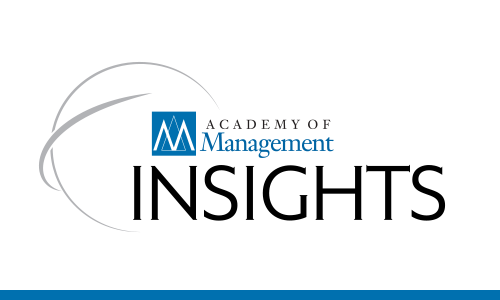 Boost your knowledge, advance your career, and help your colleagues with a free subscription to AOM Insights monthly newsletter.