Leadership and Volunteerism
The Academy of Management has a long-standing and rich tradition of volunteerism. Today, this tradition continues as thousands of members contribute their time and talents toward advancing the Academy's initiatives. Despite increasing pressures and demands on members' time and attention, a healthy and vibrant volunteer community emerges each year to facilitate the work of the Academy's Divisions and Interest Groups, committees and task forces, online and extended communities, meetings, and publications. Volunteer members are truly the lifeblood of the Academy—governing, leading, and managing initiatives that connect thousands of management scholars across the globe.
The following AOM volunteers served between August 2018 - August 2019. Our current volunteer leaders can be found in the
Leadership Directory
.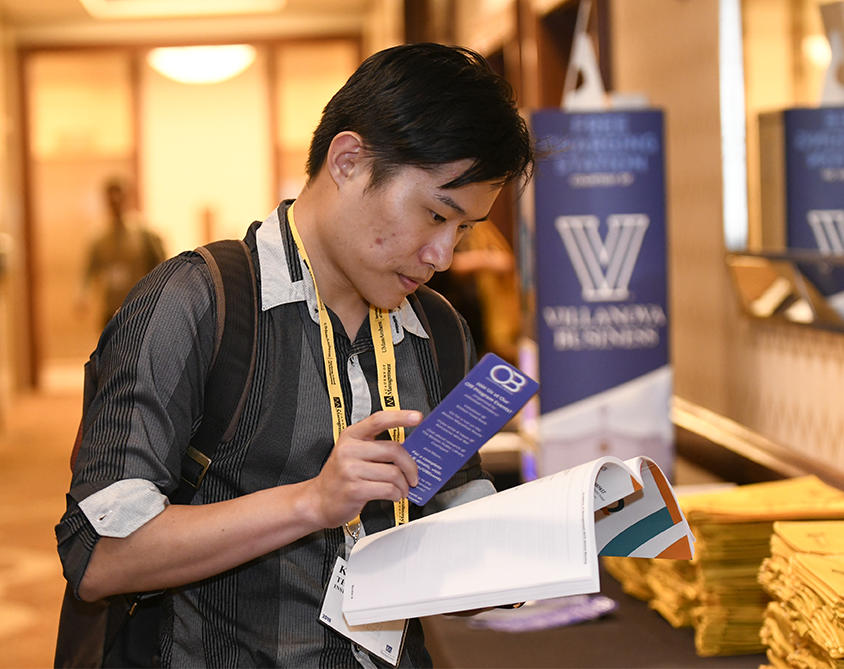 Activity and Theme Committee Chairs 2018-2019
Diversity and Inclusion Theme Committee
David B. Zoogah, Xavier University, Chair
International Theme Committee
Jacob Park, Castleton University, Chair
Practice Theme Committee
Marc Bonnet, ISEOR, Magellan, IAE Lyon, University Jean Moulin, Co-Chair
Usha C.V. Haley, West Virginia University, Co-Chair
Teaching Theme Committee
Beverly J. DeMarr, Ferris State University, Chair
Membership Committee
Hamid Kazeroony, Inver Hills Community College, AOM Committee Chair
Career Services Committee
Scott Sherman, Texas A&M University — Corpus Christi, AOM Committee Chair
Ethics Education Committee
Mark Edward Meaney, University of Colorado Boulder, AOM Committee, Co-Chair
Deborah M. Mullen, University of Tennessee Chattanooga, AOM Committee Co-Chair
Ethics Adjudication Committee
Margaret A. White, Oklahoma State University, AOM Committee Chair
Ethics Ombuds Committee
Mary Sue Love, Southern Illinois University, AOM Committee Chair
Historian
Regina Greenwood, Nova Southeastern University, AOM Committee Chair
Division and Interest Group Officers 2018-2019:
Careers Division (CAR)

Chair, Scott Seibert, Rutgers University
Chair-Elect, Jamie Jocelyn Ladge, Northeastern University
Program Chair, Gina Dokko, UC Davis
PDW Chair, Jos Akkermans, Vrije Universiteit Amsterdam
Past Chair, Bert Schreurs, Vrije Universiteit Brussel

Conflict Management (CM)

Chair, Yekaterina Bezrukova, University at Buffalo
Chair-Elect, Jana L. Raver, Queen's University
Program Chair, Jennifer R. Overbeck, Melbourne Business School
PDW Chair, Kristin Jackson Behfar, United States Army War College
Past Chair, Peter H. Kim, University of Southern California

Critical Management Studies (CMS)

Chair, Mark Learmonth, Durham University
Chair-Elect, Stephen Cummings, Victoria University of Wellington
Chair-Elect, Ajnesh Prasad, EGADE Business School
Program Chair, Marcos Pereira Fernandes De Barros, Grenoble Ecole de Management
Program Chair, Patrizia Zanoni, Hasselt University
PDW Chair, Amon Barros, Essex Business School
PDW Chair, Fernanda Filgueiras Sauerbronn, UFRJ
Past Chair, Paul Donnelly, Dublin Institute of Technology
Past Chair, Banu Ozkazanc-Pan, University of Massachusetts Boston

Entrepreneurship (ENT)

Chair, Donald Neubaum, Florida Atlantic University
Chair-Elect, Dawn DeTienne, Colorado State University
Program Chair, Peter G. Klein, Baylor University
PDW Chair, Sarah Jack, Stockholm School of Economics
Past Chair, Christina Guenther, WHU Otto Beisheim School of Management

Gender and Diversity in Organizations (GDO)

Chair, Donna Blancero, Bentley University
Chair-Elect, Alison Sheridan, UNE Business School, University of New England, Australia
Program Chair, Eden King, Rice University
PDW Chair, Joy E. Beatty, Eastern Michigan University
Past Chair, Patrick F. McKay, Rutgers University

Health Care Management (HCM)

Chair, Mattia J. Gilmartin, New York University
Chair-Elect, Timothy J. Vogus, Vanderbilt University
Program Chair, Sara Singer, Stanford University
PDW Chair, Brian Hilligoss, University of Arizona
Past Chair, Amy Yarbrough Landry, University of Alabama at Birmingham

Human Resources (HR)

Chair, Ingrid Fulmer, Rutgers University
Chair-Elect, Christopher C. Rosen, University of Arkansas
Program Chair, Anthony J. Nyberg, University of South Carolina
PDW Chair, David Collings, Dublin City University
Past Chair, Deidra J. Schleicher, Iowa State University

International Management (IM)

Chair, Elizabeth L. Rose, University of Leeds
Chair-Elect, Anupama Phene, George Washington University
Program Chair, Jaeyong Song, Seoul National University
PDW Chair, Katherine Xin, CEIBS
Past Chair, Aya S. Chacar, Florida International University

Management Consulting (MC)

Chair, Tonya L. Henderson, Software Engineering Services Corp.
Program Chair, Eric Sanders, Elmhurst College & Organization Development Economist
PDW Chair, Uzonna Olumba, University of Michigan
Past Chair, Amandine Savall , ISEOR

Management Education and Development (MED)

Chair, Paul Hibbert, University of St Andrews
Chair-Elect, Kim Gower, University of Mary Washington
Program Chair, Sabine Hoidn, University of St. Gallen
PDW Chair, Alan B. Eisner, Pace University
Past Chair, Miguel R. Olivas-Lujan, Clarion U of Pennsylvania

Management History (MH)

Chair, James M. Wilson, University of Glasgow
Chair-Elect, Daniel Wadhwani, University of the Pacific
Program Chair, Andrew Cardow, Massey University
PDW Chair, Roy R. Suddaby, University of Victoria
Past Chair, Stephanie Pane, Texas A&M University-Commerce

Managerial and Organizational Cognition (MOC)

Chair, Brianna Barker Caza, Univerisity of Manitoba
Program Chair, Abhijeet K. Vadera, Singapore Management University
PDW Chair, Naomi Beth Rothman, Lehigh University
Past Chair, Morela Hernandez, University of Virginia

Management Spirituality and Religion (MSR)

Chair, Michael Andreas Pirson, Fordham University
Chair-Elect, Charles Thomas Tackney, Copenhagen Business School
Program Chair, Stacie Chappell, Western New England University
PDW Chair, Chris Laszlo, Case Western Reserve University
Past Chair, Mary Finney, Ohio University

Organizational Behavior (OB)

Chair, Cristina Gibson, Pepperdine University
Chair-Elect, Sigal Barsade, Wharton School, University of Pennsylvania
Program Chair, Daan Van Knippenberg, Drexel University
Program Chair (Symposia), Ronald F. Piccolo, University of Central Florida
PDW Chair, Uta K. Bindl, King's College London
Past Chair, Jeffrey R. Edwards, University of North Carolina

Organizational Communications and Information Systems (OCIS)

Chair, Likoebe Maruping, Georgia Sate University
Chair-Elect, Ola Henfridsson, The University of Warwick
Program Chair, Jennifer Gibbs, University of California, Santa Barbara
PDW Chair, Katherine Chudoba, Utah State University
Past Chair, Emmanuelle Vaast, McGill University

Organization Development and Change (ODC)

Chair, Danielle Zandee, Nyenrode Business Universiteity
Chair-Elect, Clifford Oswick, City University of London
Program Chair, David Bright, Wright State University
PDW Chair, Linda Rouleau, HEC-Montreal
Past Chair, John Matthew Amis, University of Edinburgh

Organization and Management Theory (OMT)

Chair, Davide Ravasi, University College London
Chair-Elect, Peer Fiss, University of Southern California
Program Chair, Renate Elisabeth Meyer, WU Vienna
PDW Chair, Martin J. Kilduff, University College London
Past Chair, Marc-David Seidel, University of British Columbia

Organizations and the Natural Environment (ONE)

Chair, Jonatan Pinkse, University of Manchester
Chair-Elect, Judith Lousie Walls, University of St. Gallen
Program Chair, Jeff York, University of Colorado
PDW Chair, Ivan Montiel, Baruch College, City University of New York
Past Chair, Glen Dowell, Cornell University

Operations and Supply Chain Management (OSCM)

Chair, Virpi Turkulainen, UCD Business School
Chair-Elect, David Cantor, Iowa State University
Program Chair, Rachna Shah, University of Minnesota
PDW Chair, Sean M. Handley, University of South Carolina
Past Chair, Manpreet Hora, Georgia Institute of Technology

Public and Nonprofit (PNP)

Chair, Deneen Hatmaker, University of Connecticut
Chair-Elect, Shahidul Hassan, The Ohio State University
Program Chair, Amy E. Smith, UMass Boston
PDW Chair, Eva Witesman, BYU
Past Chair, Kira Kristal Reed, Syracuse University

Research Methods (RM)

Chair, Michael S. Cole, Texas Christian University
Chair-Elect, Marcus Butts, Southern Methodist University
Program Chair, Zhen Zhang, Arizona State University
PDW Chair, Daniel Judson Beal, Virginia Tech
Past Chair, John Kammeyer-Mueller, University of Minnesota

Strategizing Activities and Practices (SAP)

Chair, Sotirios Paroutis, University of Warwick
Chair-Elect, Rajiv Nag, Drexel University
Program Chair, Virpi Ilona Sorsa, Hanken School of Economics
PDW Chair, Katharina Dittrich, Warwick Business School
Past Chair, A. Paul Spee, The University of Queensland

Social Issues in Management (SIM)

Chair, David Wasieleski, Duquesne University
Chair-Elect, Jill Ann Brown, Bentley University
Program Chair, Andrew C. Wicks, The Darden School/UVA
PDW Chair, Katherina Pattit, University of St. Thomas
Past Chair, Doug Schuler, Rice University

Strategic Management (STR)

Chair, Xavier Martin, Tilburg University
Chair-Elect, Samina Karim, Northeastern University
Program Chair, Tim Folta, University of Connecticut
PDW Chair, Heather Berry, George Washington University
Past Chair, Mary J. Benner, University of Minnesota

Technology and Innovation Management (TIM)

Chair, Stefano Brusoni, ETH Zurich
Chair-Elect, Corey Phelps, McGill University
Program Chair, Rahul Kapoor, Wharton School, University of Pennsylvania
PDW Chair, Janet E.L. Bercovitz, University of Colorado Boulder
Past Chair, Aija Elina Leiponen, Cornell University
Board of Governors 2018-2019
Executive Committee

Carol T. Kulik, President, University of South Australia
Jacqueline A-M. Coyle-Shapiro, President-Elect, The London School of Economics
Quinetta Roberson, Vice President & Program Chair, Villanova University
Herman Aguinis, Vice President-Elect & Program Chair-Elect, George Washington Universit y
Mary Ann Glynn, Past President, Boston College

Representatives at Large

David Patient, Universidade Católica Portuguesa, Representative at Large
Aparna Joshi, Pennsylvania State University, Representative at Large
Alison Konrad, University of Western Ontario, Representative at Large
Batia Mishan Wiesenfeld, New York University, Representative at Large
Elizabeth George, University of Auckland, Representative at Large
Christine Quinn Trank, Vanderbilt University, Representative at Large
Diana Bilimoria, Case Western Reserve University, Representative at Large
Søren Henning Jensen, Copenhagen Business School, Representative at Large
Tammy L. Madsen, Santa Clara University, Representative at Large

Incoming Members

Vice President-Elect & Program Chair-Elect, 2019-2020, Amy Hillman, Arizona State University
Representative at Large, 2019-2022, Morten Huse, BI Norwegian Business School
Representative at Large, 2019-2022, Isabel Metz, Melbourne Business School
Representative at Large, 2019-2022, Nelson Phillips, Imperial College London